Are you looking for research-based word mapping worksheets?
These pages are not just done-for-you word mapping activities for every phonics skill.
They're intentionally-designed, research-based worksheets that incorporate fluency, too!
What is Word Mapping?
Not sure what word mapping is? No worries, I got ya!
Click HERE to learn everything you need to know about word mapping in 5 minutes or less!
All About the Phonics Word Mapping Worksheets Bundle
The Left Side of the Word Mapping Worksheet
On the left side of the worksheet, you have six targeted, phonics-based pictures.
There is one box for each sound in the word, and students write the corresponding graphemes in the box to build their sound-to-spelling connection. They're encoding!
(If the number of boxes not matching the number of letters in the word doesn't make sense to you, feel free read this blog post where I explain word mapping.)
Just like phonemic awareness practice, feel free to incorporate manipulatives. I promise what you already have for math (like these cubes) will work for this, too!
The Right Side of the Word Mapping Worksheet
A fluency table is just as it sounds – a table full of words to read (and reread) to build fluency.
In this case, the *only* words included in the fluency table are the words the students have already mapped.
(This is also helpful if you send it for homework and parents are struggling to understand the pictures.)
There are three stars at the bottom of page, prompting students to read the table three full times (and color a star each time they read).
Told ya, it's a two-for-one kinda resource! 😉
Using the Word Mapping Worksheets
Let's put it together!
Students practice targeted word mapping AND whole word fluency, all on one page.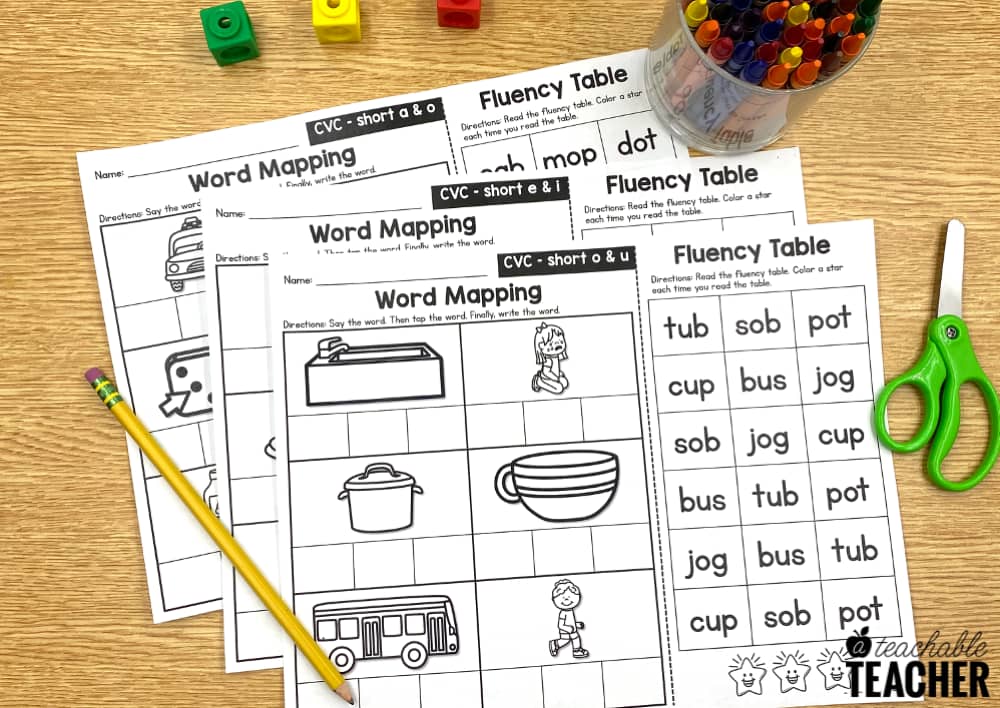 Students start out by word mapping. Just fold (or cut) the fluency table to hide the words.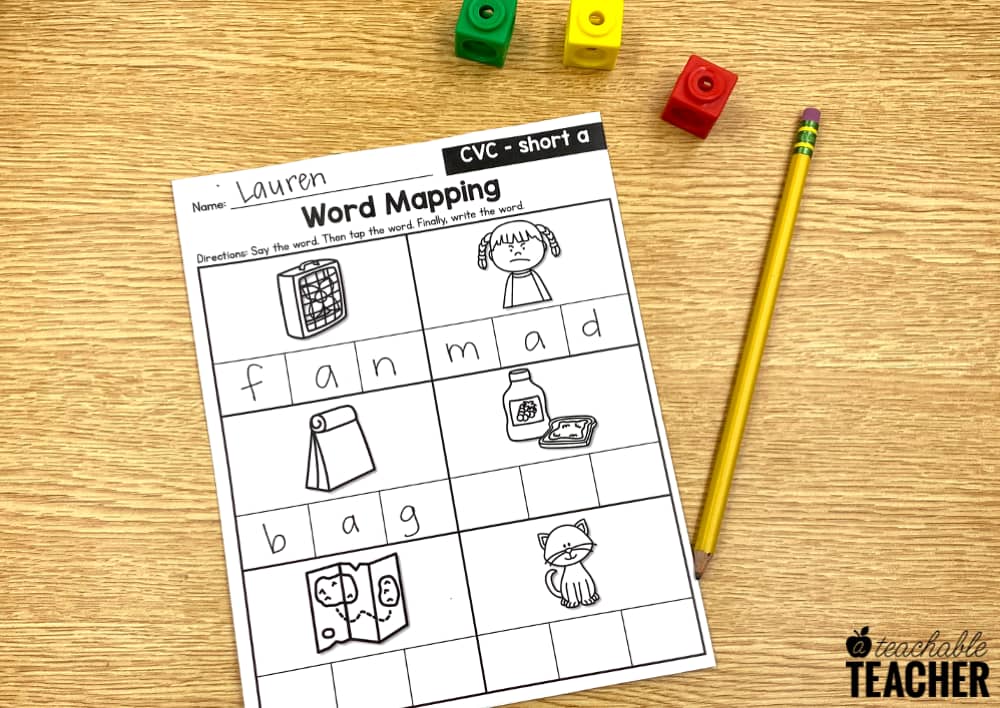 After students have practiced encoding the words, they will practice decoding the words in the table. This builds fluency and automaticity in reading.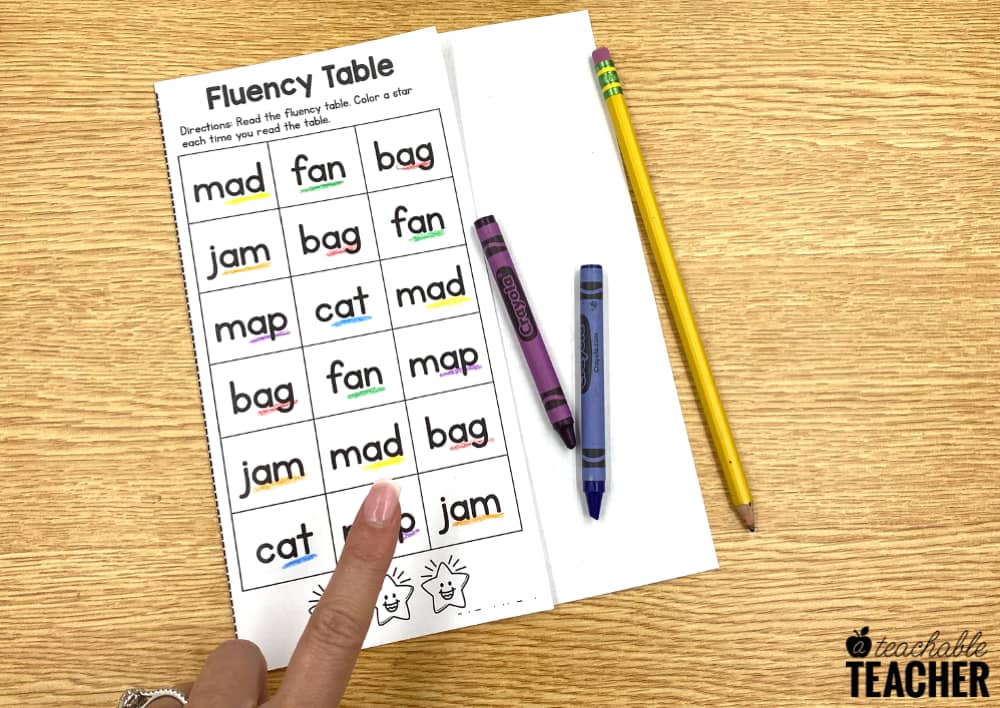 Did I mention that you can have students word map at school, and take the fluency table home for extra practice? Just snip on the line instead of folding.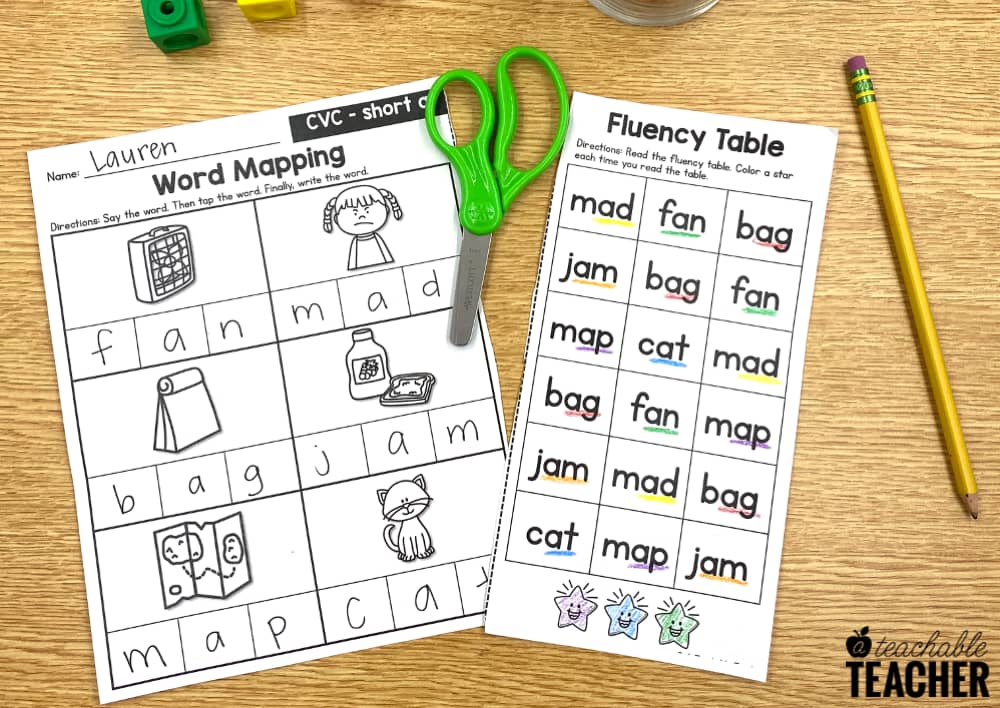 And there you have it – meaningful, research-based practice that you can easily incorporate into your phonics block.
Did I mention I have these pages for ALLLL the phonics skills?
The following skills are included in the Word Mapping Worksheets Bundle:
cvc words
digraphs
blends
silent e/VCe
long vowel teams
diphthongs
r-controlled vowels
However, the bundle is always discounted, no code needed!
Click HERE to the Phonics Word Mapping Worksheet Bundle at a discount!
More Word Mapping Worksheets
If your students love word searches, they will LOVE these word-map-then-word-search pages!
Are you looking for a quick yet meaningful intervention activity that includes word mapping? These Intervention Minis will definitely do the trick!